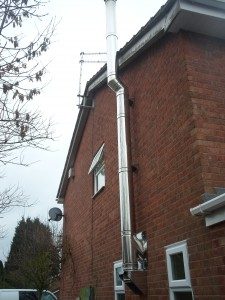 Chimney Lining
Lining a chimney is definitely the best way to get the most out of your stove.
Stoves work best with a flue diameter as close as possible to that specified by the stove manufacturer or building regulations.
A stove designed to work on a 150mm flue will not work as well if it is attached to an 11 inch brick chimney. Fit a flue liner and insulate it and there should be no reason for the stove not to work perfectly.
Twin Wall Flue System
NO CHIMNEY – NO PROBLEM
Twin wall flue cannot be cut so it needs to be planned carefully.
Twin wall flues are stainless steel pipes with insulation between them that keeps the gases hot
Most twin wall flues can usually be installed in a day so there is not too much inconvenience to the customer.
Compared with having a new chimney built a twin wall flue is a lot cheaper.
Twin wall flue is most common in stainless steel, but is also available in black and other colours.